There are a few wineries in Germany which produce outstanding, world-class Pinot Noirs (Spätburgunder). One of these wineries is "Weingut Bernhard Huber" in Malterdingen in Germany's southwestern corner.
I am not sure where and when I met Bernhard – Prowein in Düsseldorf maybe, or at one of the events of Germany's elite winemakers association VDP, but it was more than a few years ago. I tasted one of his Pinots and was immediately electrified by the density and elegance of the wine. We talked a few minutes, and I decided to visit him at his winery. It never happened, there was always something else. It will never happen, he died in June of this year.
After hearing of Bernhard's death, I decided at once to organise a tasting of his wines, especially of his famous "Wildenstein" Pinot Noirs, which he began producing in 2004. Wildenstein is a small plot of the Bienenberg vineyard, which produces grapes of exceptional quality. Until 2003 the best grapes of Bernhard's vineyards, Malterdinger Bienenberg, Hecklinger Schlossberg, and Bombacher Sommerhalde were selected and blended for the "Reserve" Pinot Noir. Since 2004 every vineyard is bottled separately, and when Bernhard Huber became a member of Germany's elite winemakers association VDP, they were labelled VDP.GG – Großes Gewächs (Grand Cru).
As the Wildenstein plot is small and the yield is restricted to only about 28 hl/ha (300 gal/acre), the "Wildenstein" bottles are rare, very rare. 'With a little help from my friends' I managed to gather all "Wildenstein" vintages from 2012 – 2004, and the "Reserves" from 2003 – 2001. Thank you René Neukirch and Oliver Haag! And special thanks to Julian Huber, Bernhard's son: The 2004 "Wildenstein" is from the winery's own reserve, and I could use the 2012 "Wildenstein" for the tasting, which, being the latest vintage bottled, was officially not yet released.
Bernhard Huber did not only produce Pinot Noirs, he also produced excellent white wines – dry, sweet, and sparkling. A selection of white wines completed the tasting. We had 25 wines in the tasting and 12 participants.
The participants of the tasting, which took place 01.11.2014 at the Restaurant La Villetta in Karlsruhe, were professionals as well as wine enthusiasts:
Barbara Brendel, Frankfurt am Main, hotel business
Joachim Kaiser, Karlsruhe, SAP and wine consultant
Sebastian Koik, Hamburg/Stuttgart, wine retail
Jürgen Kling, Pforzheim, gold smith and organiser of wine tastings
Bernd Klingenbrunn, Frankfurt am Main, wine retail (K&M Gutsweine)
Thorsten Kogge, Bruchsal, university lecturer and wine journalist
Michel Kreuzberg, Dernau, vintner (Weingut Heiner & Kreuzberg)
René Neukirch, Limburg an der Lahn, financial services provider
Maximilian Philipps, Karlsruhe, student (philosophy, economy)
Stefan Rauscher, Karlsruhe, PhD Student (biology)
Dorit Schmitt, Karlsruhe, wine and food expert (Chateau et Chocolat)
Jörg Wendel, Sinsheim, oenologist
Bernd Klingenbrunn has already published a report about the tasting.  His tasting notes and ratings are quite similar to mine, which spares me from writing an elaborate 'essay' about the wines.
There is a clear winner of the Huber internal competition, and that is the 2004 "Wildenstein" Pinot Noir. There was some discussion among the group concerning a few wines, but everybody agreed: 2004 "Wildenstein" is a world-class, a GREAT wine!
For those who are interested in statistics, here is the analysis: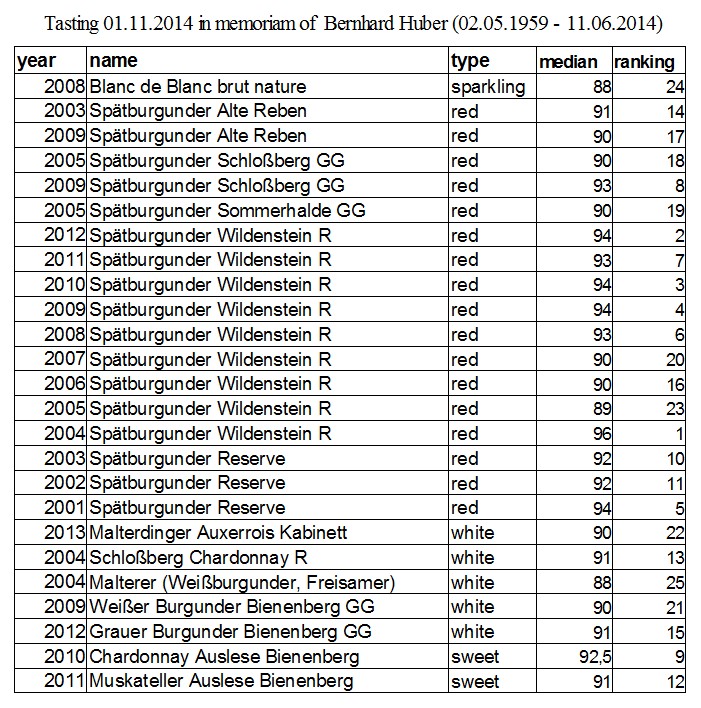 Conclusion
Tasting Bernhard Huber's Pinot Noirs back to 2001 was a terrific experience. Despite the fact that some years were very difficult and some, like 2006  an outright desaster, all wines were of exceptional quality, many were outstanding or world-class.
Text: Joachim A. J. Kaiser
Photos: Weingut Bernhard Huber, Maximilian Philipps, Joachim A. J. Kaiser
Acknowledgement: Many thanks to Thorsten Kogge and Maximilian Philipps who helped to organise the tasting.