Wine & Dine La Degustation Bohême Bourgeoise, Prague, 18. March 2014
I was lucky to catch a table at La Degustation on short notice. The Restaurant is located in Prague's city center, and reservation some weeks in advance is recommended. The interior is modern but not cold, I felt comfortable as soon as I entered the restaurant.
It proved to be an exeptional culinary experience. What chef Oldřich Sahaják and sommelier Roman Novotný created is outstanding. Concerning wine and food pairing I rank it among the top ten of my life.
It is even more impressive if you consider that all five wines were from Czech Republic and not from French or German or any other internationally renowned wineries. All wines were very good, but none was outstanding or world-class. And that is another masterstroke, a kind of alchemical transformation, these wines paired with the food transfigured the pleasure into pure joy!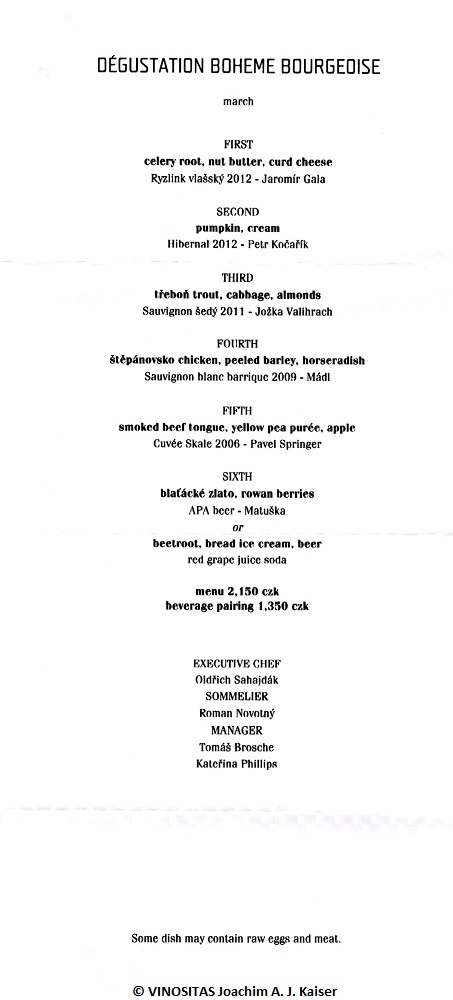 FIRST: Celery 91, Ryzlink vlašský 87, Pairing 92
SECOND: Pumpkin 93, Hibernal 88, Pairing 95
THIRD: Trout 88, Sauvignon šedý 86, Pairing 90
FOURTH: Chicken 90, Sauvignon blanc 87, Pairing 90 with the Sauvignon,
with the 2003 Chardonnay Barrique Reserve 91
FIFTH: Beef Tongue 92, Cuveé Skale 87, Pairing 92
SIXTH: Cheese 89, APA Beer 88, Pairing 86
SEVEN: Beetroot 92, Red Grape Juice Soda 87, Pairing 93
There is only one drop of bitterness, the pairing of cheese and beer was not bad, but not up to the standard of the other pairings. But that's complaining about first level problems.
Text: Joachim A. J. Kaiser
Photos: "dressing area" Joachim A. J. Kaiser, all other photos La Degustation Bohême Bourgeoise
Acknowledgement: After the dinner my camera was stolen on my way back to the hotel. La Degustation Bohême Bourgeoise employees provided all photos above. THANKS A LOT!
Remark: Updated and shortened November 2014